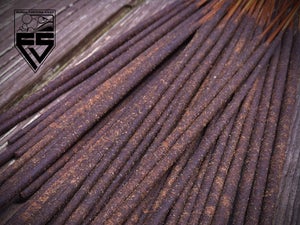 ACH Premium Incense Sticks
Incense is not only great for meditation and relaxation, but makes a great air freshener and odor neutralizer as well.
Our premium 11' incense sticks are made fresh and will arrive saturated with some of the most refreshing fragrances to ever fill your home or work space.
Each resealable package contains 10 incense sticks.
Proudly made in the USA
SHIPPING AND DELIVERY
Every effort is made to ship either the same day or as soon as the next business day the order is made. However, please allow up to 7 business days for all our handcrafted products to ship as order volume and product availability may vary.
WE CURRENTLY DO NOT SHIP OUTSIDE OF THE USA
Availability
Black Ice - 0% in stock

Sold Out

Coco Berry - 100% in stock

Dominator - 12% in stock

Evil Cherry - 100% in stock

Fluffy Pancakes - 100% in stock

General's Club - 78% in stock

Lavender - 67% in stock

Mega Fresh - 0% in stock

Sold Out

Melon - 86% in stock

Sexy Time - 0% in stock

Sold Out

Supreme Sandalwood - 0% in stock

Sold Out

Tangerine - 0% in stock

Sold Out

Porn Scene - 0% in stock

Sold Out

War Beard - 0% in stock

Sold Out