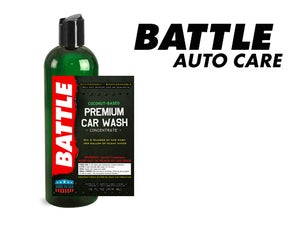 Battle Auto Premium Car Wash
Our Premium Car Wash by Battle Auto is an eco-friendly and biodegradable car wash shampoo that effectively cuts through dirt and grime with it's powerful concentrated formula. With ingredients derived from coconuts, this car wash is silicone-free and is much more gentle on the skin when used for hand washing a vehicle. Rinses off for a spotless finish. It's the same formula trusted by high end detailing boutiques, and rarely available to the public.
It will not remove any existing wax or sealants, making it perfect for regular use. Our formula is safe for just about any vehicle surface including vinyl wraps. It's optimized for hand washing but works on foam cannons too.
Choose from an amazing choices of head turning fragrances:
Citrus Bully - A delicious lemon and citrus scent based on the Brazilian Bully MAX Fight Soap Bar which also helps cut grease and oil.
Send Nudes (aka War Beard) - The same legendary scent used on our War Beard Grooming line which features masculine wood, moss, and aged bourbon notes.
Deep Kuntry - Sweet tobacco, tea leaves, denim, and fresh honey is going to bring the country out of anyone who smells this!
Jet Black - Extremely masculine evening cologne fragrance.
Each comes in a 16 ounce squeezable bottle with a dispensing cap. We recommend using 2-4 ounces of product per gallon of water for hand washing. For foam cannon use, we suggest minimal product solution for maximum results.
SHIPPING AND DELIVERY
Every effort is made to ship either the same day or as soon as the next business day the order is made. However, please allow up to 7 business days for all our handcrafted products to ship as order volume and product availability may vary.



WE CURRENTLY DO NOT SHIP OUTSIDE OF THE USA



Availability
Citrus Bully - 64% in stock

Send Nudes - 72% in stock

Deep Kuntry - 80% in stock

Jet Black - 67% in stock