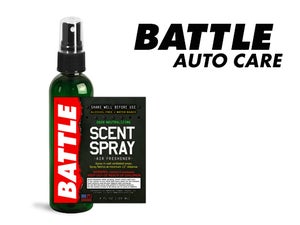 Battle Auto Scent Spray
ATTENTION: THIS IS A PRESALE OFFER. These items will begin shipping out on the week of July 17, 2017. All non-presale items ordered with the items below will ship together. Please order non-presale items separately for quicker delivery.
Scent Sprays are alcohol-free air fresheners and odor neutralizers. These make your vehicle's interior smell damn good as the bad odors are being neutralized. Use on car seats, carpets, and ceiling.
Each comes in a 4 ounce fine mist spray bottle
Fragrance Guide:
Bubble Gum - Classic pink bubble gum.
Coffee Shop - Dark roasted coffee.
Jet Black - Elegant evening cologne.
Deep Blue - Sporty daytime cologne.
Ex Girlfriend - Smells like that girl you still think about.
Juicy Fruits - Mouthwatering fruit flavored chewing gum.
MILF - Smells like that rich cougar at the gym.
Private Reserve - Smooth woodsy cologne.
Seaside Lavender - Relaxing lavender with ocean notes.
Send Nudes - (War Beard Scent) Our most popular cologne fragrance.
Vegas Stripper - If you've paid for a lap dance you already know how this smells.
SHIPPING AND DELIVERY
Every effort is made to ship either the same day or as soon as the next business day the order is made. However, please allow up to 7 business days for all our handcrafted products to ship as order volume and product availability may vary.



WE CURRENTLY DO NOT SHIP OUTSIDE OF THE USA



Availability
Bubble Gum - 100% in stock

Coffee Shop - 88% in stock

Jet Black - 72% in stock

Deep Blue - 76% in stock

Ex Girlfriend - 60% in stock

MILF - 72% in stock

Private Reserve - 60% in stock

Seaside Lavender - 72% in stock

Send Nudes - 88% in stock

Vegas Stripper - 96% in stock