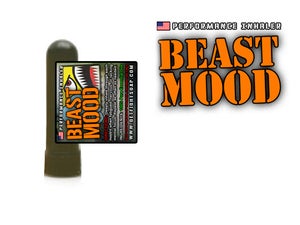 Beast Mood Performance Inhaler
Our Beast Mood Performance Inhalers uses the power of natural aromatherapy to help unleash or tame the beast in every fighter. Aromatherapy uses the process known as olfactory reception, where aromas trigger specific reactions from the brain.
Our secret blend of essential oils in each inhaler is 100% drug free and contains no narcotics. One inhaler lasts a long time even with regular use.
Beast Mood Original is perfect to use when you need a boost, or Beast Mood Chill to help you find a state of calm.
To use: Unscrew the inhaler cap and deeply inhale the powerful aromatic vapor through each nostril. Go BEAST and replace cap after every use. It's that simple.
Ingredients:
100% Pure Essential Oils, Menthol.
CAUTION: FOR EXTERNAL USE ONLY. USE ONLY AS DIRECTED. AVOID CONTACT WITH EYES. DISCONTINUE USE IF RASH, REDNESS OR ITCHING OCCURS. CONSULT YOUR PHYSICIAN IF IRRITATION PERSISTS. KEEP OUT OF REACH OF SMALL CHILDREN. THIS PRODUCT IS NOT INTENDED TO DIAGNOSE, TREAT, CURE, OR PREVENT ANY DISEASE. IF YOU ARE PREGNANT, NURSING, TAKING MEDICATION, OR HAVE A MEDICAL CONDITION, CONSULT YOUR PHYSICIAN BEFORE USING THIS PRODUCT.
SHIPPING AND DELIVERY
Every effort is made to ship either the same day or as soon as the next business day the order is made. However, please allow up to 7 business days for all our handcrafted products to ship as order volume and product availability may vary.
WE CURRENTLY DO NOT SHIP OUTSIDE OF THE USA