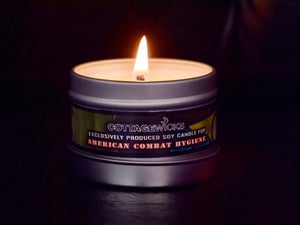 FS Premium Soy Candles
These premium soy candles are handcrafted for us by Cottagewicks, a fellow small business here in CT. Each 2oz tin features a select fragrance blended exclusively for Fight Soap.
Available Fragrances:
Awesome Childhood - a familiar candy like scent that brings back the fun and comfort of your childhood.
Band Camp - it's summer camp and shenanigans all over again with the distinct smell of a open wood fire.
Burly Woodsman - a robust blend of forest scents like wood, foliage, earth that gives you the urge to wear plaid.
Chill Bitch - soothing lavender, vanilla, and blended herbs turn things down a notch for a relaxing atmosphere.
Dirty Garage - made for those who love to wrench.
Facility East - smells that good to be named after our headquarters
Fog of War - the scents of spent brass, gunsmoke, and victory.
Mmm Bacon - no explanation needed.
Olde Whiskey - no explanation needed.
Tropical Affair - a close experience to being surrounded by hot women in skimpy bikinis serving you fruit cocktails in your private island.
CAUTION: TO PREVENT FIRE AND SERIOUS INJURY: BURN CANDLE WITHIN SIGHT. KEEP AWAY FROM DRAFTS AND VIBRATIONS. KEEP OUT OF REACH OF CHILDREN AND PETS. NEVER BURN CANDLE ON OR NEAR ANYTHING THAT CAN CATCH FIRE.
SHIPPING AND DELIVERY
Every effort is made to ship either the same day or as soon as the next business day the order is made. However, please allow up to 7 business days for all our handcrafted products to ship as order volume and product availability may vary.
WE CURRENTLY DO NOT SHIP OUTSIDE OF THE USA
Availability
Awesome Childhood - 0% in stock

Sold Out

Band Camp - 0% in stock

Sold Out

Burly Woodsman - 0% in stock

Sold Out

Chill Bitch - 0% in stock

Sold Out

Dirty Garage - 0% in stock

Sold Out

Facility East - 0% in stock

Sold Out

Fog of War - 0% in stock

Sold Out

Mmm Bacon - 75% in stock

Olde Whiskey - 0% in stock

Sold Out

Tropical Affair - 0% in stock

Sold Out