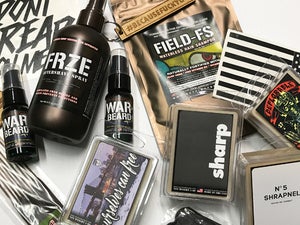 SOAPMOD Mystery Pack
For the lovers of soap and surprises, we present to you the SOAPMOD Mystery Pack. Each package contains a random selection of 3 LIMITED EDITION Fight Soap Bars plus a surprise item (or two!). These include previous limited edition products that are no longer available. We've seen some of these bars on auction sites like eBay for over $30 each These are great to build up your collection, or a chance to use one of your favorite blends from the past again.
Choose between Beard, Shaved, or Women's Pack to help us load up your SOAPMOD Mystery Pack with the appropriate items.
SHIPPING AND DELIVERY
Every effort is made to ship either the same day or as soon as the next business day the order is made. However, please allow up to 7 business days for all our handcrafted products to ship as order volume and product availability may vary.



WE CURRENTLY DO NOT SHIP OUTSIDE OF THE USA



Availability
Beard Pack - 100% in stock

Shaved Pack - 100% in stock

Women's Pack - 100% in stock