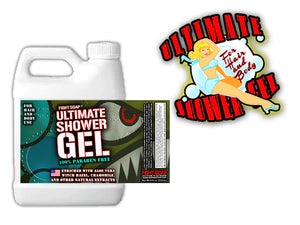 Ultimate Shower Gel
THIS IS A PRE-ORDER BATCH. SHIPS MID APRIL 2017.
Our reformulated premium shower gel is better than ever! We start off with Aloe Vera Leaf Juice for it's healing and antibacterial properties, backed up by a secret blend of botanical extracts.
The result is a thick lathering gel that cleans up great, rinses clean, oand is now completely SLS and paraben-free.
The Ultimate Shower Gel is the first in the industry to come in an 8 oz jug that is perfect for the gym or barracks. It can be hung on to shower stalls and faucets with paracord, from a hook, wherever...the possibilities are endless.
This is a pre-order batch/item. Please allow up to 2 weeks for delivery upon receipt of shipping confirmation. Any other items ordered with these items will ship together, so please order regularly stocked separately for faster shipping.

Ingredients:
Water, Botanical Extracts, Oatmeal Kernel, Aloe Vera Juice, Sodium Methyl 2-Sulfolaurate, Disodium 2-Sulfolaurate, Cocamidopropyl Betaine, Lauramide MEA, Cetrimonium Chloride, PEG-150 Distearate, Panthenol, Polyquaternium-7, Citric Acid, Phenoxyethanol, Caprylyl Glycol, Ethylhexylglycerin, Hexylene Glycol, Fragrance.
CAUTION: FOR EXTERNAL USE ONLY. USE ONLY AS DIRECTED. AVOID CONTACT WITH EYES. DISCONTINUE USE IF RASH, REDNESS OR ITCHING OCCURS. CONSULT YOUR PHYSICIAN IF IRRITATION PERSISTS. KEEP OUT OF REACH OF SMALL CHILDREN. THIS PRODUCT IS NOT INTENDED TO DIAGNOSE, TREAT, CURE, OR PREVENT ANY DISEASE. IF YOU ARE PREGNANT, NURSING, TAKING MEDICATION, OR HAVE A MEDICAL CONDITION, CONSULT YOUR PHYSICIAN BEFORE USING THIS PRODUCT.
SHIPPING AND DELIVERY
Every effort is made to ship either the same day or as soon as the next business day the order is made. However, please allow up to 7 business days for all our handcrafted products to ship as order volume and product availability may vary.
WE CURRENTLY DO NOT SHIP OUTSIDE OF THE USA
Availability
Original Blend - 100% in stock

War Beard Blend - 100% in stock

Deep Blue Blend - 100% in stock

Jet Black Blend - 100% in stock

Grape Drank Blend - 100% in stock

Bubblegum Blend - 100% in stock

Chill Sandalwood Blend - 100% in stock

Minty Green Tea Blend - 100% in stock

Ginger Spice Blend - 100% in stock

Rich Mahogany Blend - 100% in stock