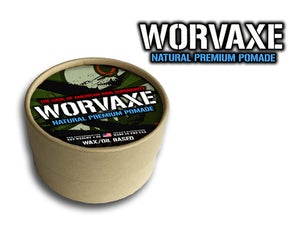 WORVAXE Premium Hair Pomade
WORVAXE is our flagship hair pomade that's made completely out of natural oils and waxes. It contains no harsh petroleum-based chemicals. Unlike traditional oil-based pomades, WORVAXE rinses off with a regular wash. It helps smooth and nourish hair with Vitamin E. It has strong notes of ash, wood, bergamot, and caramel for an unforgettable fragrance. Light to Medium Hold. Made in the USA
Each comes in a resealable 4 oz Recycled Paper Tub.
Ingredients:
Beeswax, Carnauba Wax, Botanical Extracts, Fruit Extracts, Natural Carrier and Essential Oils, Fragrance. May contain traces of soy and wheat products.
CAUTION: FOR EXTERNAL USE ONLY. USE ONLY AS DIRECTED. AVOID CONTACT WITH EYES. DISCONTINUE USE IF RASH, REDNESS OR ITCHING OCCURS. CONSULT YOUR PHYSICIAN IF IRRITATION PERSISTS. KEEP OUT OF REACH OF SMALL CHILDREN. THIS PRODUCT IS NOT INTENDED TO DIAGNOSE, TREAT, CURE, OR PREVENT ANY DISEASE. IF YOU ARE PREGNANT, NURSING, TAKING MEDICATION, OR HAVE A MEDICAL CONDITION, CONSULT YOUR PHYSICIAN BEFORE USING THIS PRODUCT.
SHIPPING AND DELIVERY
Every effort is made to ship either the same day or as soon as the next business day the order is made. However, please allow up to 7 business days for all our handcrafted products to ship as order volume and product availability may vary.
WE CURRENTLY DO NOT SHIP OUTSIDE OF THE USA