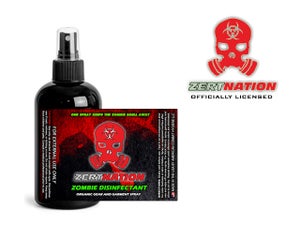 Z.E.R.T Zombie Disinfectant Spray
ATTENTION: THIS IS A PRESALE OFFER. These products will begin shipping out on the week of Dec 7, 2017. All non-presale items ordered with the items below will ship together. Please order non-presale items separately for quicker delivery.
The official Z.E.R.T. Nation "Zombie Disinfectant" is the first all-natural ready to use deodorizing spray of its kind for combat gear and garment. Our premium formula is loaded with essential oils and botanical extracts.
Regular use of the spray helps get rid of stubborn odors that do not go away even with regular washing. It is safe to spray on most materials.
It comes ready to use and it's sleek and compact 8 oz bottle takes very little space in your kit bag.
This product may leave a slightly slick residue and therefore is not recommended to be used on training mats or other surfaces where grip is critical.
CAUTION: FOR EXTERNAL USE ONLY. USE ONLY AS DIRECTED. AVOID CONTACT WITH EYES. DISCONTINUE USE IF RASH, REDNESS OR ITCHING OCCURS. CONSULT YOUR PHYSICIAN IF IRRITATION PERSISTS. KEEP OUT OF REACH OF SMALL CHILDREN. THIS PRODUCT IS NOT INTENDED TO DIAGNOSE, TREAT, CURE, OR PREVENT ANY DISEASE. IF YOU ARE PREGNANT, NURSING, TAKING MEDICATION, OR HAVE A MEDICAL CONDITION, CONSULT YOUR PHYSICIAN BEFORE USING THIS PRODUCT.
SHIPPING AND DELIVERY
Every effort is made to ship either the same day or as soon as the next business day the order is made. However, please allow up to 7 business days for all our handcrafted products to ship as order volume and product availability may vary.
WE CURRENTLY DO NOT SHIP OUTSIDE OF THE USA. WE SHIP TO APO/FPO