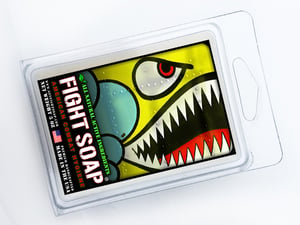 Bloody Murder MAX Fight Soap
Bloody Murder MAX gets its red hue from real dragons blood, an extract from a plant used by natives of the Amazon as a potent antiseptic. Bloody Murder MAX is also made with highly-potent Manuka Tea Tree oil and other essential oils, all renowned for their antibacterial and antifungal properties.
Our MAX formula also delivers skin nourishing botanicals and vitamin E to counter the skin drying effects of the soap bar's active ingredients. This blend has been a favorite for treating fresh tattoos among our customers, as well as open wounds.
Bloody Murder MAX features a clean and crisp apple scent.
Each Fight Soap bar comes in a durable plastic case that can be used as a waterproof travel container. Each soap weighs approximately 5 oz.
Please allow for slight variances in soap color and net weight as they are blended and poured into molds by hand.
Ingredients:
Sodium Cocoate, Vegetable Glycerin, Propanediol, Water, Sunflower Extract, Sorbitol, Sodium Stearate, Sucrose, Plant-based Carrier Oils, Organic Essential Oils, Vitamin E, Fragrance. May contain traces of soy and wheat products.
CAUTION: FOR EXTERNAL USE ONLY. USE ONLY AS DIRECTED. AVOID CONTACT WITH EYES. DISCONTINUE USE IF RASH, REDNESS OR ITCHING OCCURS. CONSULT YOUR PHYSICIAN IF IRRITATION PERSISTS. KEEP OUT OF REACH OF SMALL CHILDREN. THIS PRODUCT IS NOT INTENDED TO DIAGNOSE, TREAT, CURE, OR PREVENT ANY DISEASE. IF YOU ARE PREGNANT, NURSING, TAKING MEDICATION, OR HAVE A MEDICAL CONDITION, CONSULT YOUR PHYSICIAN BEFORE USING THIS PRODUCT.
SHIPPING AND DELIVERY
Every effort is made to ship either the same day or as soon as the next business day the order is made. However, please allow up to 7 business days for all our handcrafted products to ship as order volume and product availability may vary.
WE CURRENTLY DO SHIP OUTSIDE OF THE USA