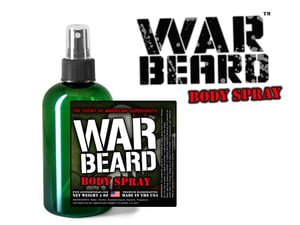 War Beard Body Spray
The legendary scent of our War Beard Gel, now in an alcohol-free body spray. It's been improved with nourishing and healing botanicals like Calendula, Cucumber, and Aloe Vera setting it completely apart from a regular body spray. It's great for your hair too!
War Beard Body Spray comes in a 4 oz bottle, and is proudly made in the USA.


SHIPPING AND DELIVERY
Every effort is made to ship either the same day or as soon as the next business day the order is made. However, please allow up to 7 business days for all our handcrafted products to ship as order volume and product availability may vary.



Availability
Original Scent - 0% in stock

Sold Out

Deep Blue - 0% in stock

Sold Out

Private Reserve - 0% in stock

Sold Out

Sinister Cedar - 20% in stock